Appropriate layout and merchandise display of clothing store can reduce stolen merchandise
Views:4 Author:Site Editor Publish Time: 2018-06-05 Origin:Site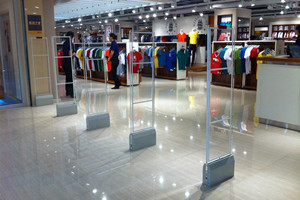 Whether it is a department store or a shopping mall, the most easily lost items in open-style clothing are mainly high-priced and portable products. The loss of such products accounts for 50%-70% of the store's losses. If they are effectively protected, they will greatly help reduce the overall loss. Therefore, in the clothing store layout and merchandise display design, taking into account the needs of product security, is a problem worthy of attention in the overall design of the clothing store. In open-sale clothing stores, the main techniques for theft-proof store layout display are as follows.
(1) Some of the most easily stolen garments are displayed in the places visited by shop assistants. Even when the clerk is busy, they can take care of these garments, increasing the difficulty of burglars committing crimes, and facilitating the theft of clothing. Do not place easily stolen clothing near the exit.
(2) It is possible to adopt a centralized approach to consolidate some high-priced and easily lost garments into a relatively small area. This is a safe clothing display method that is more conducive to clothing theft prevention.
(3) Areas where clothing stores are prone to theft. Dead spots or invisible areas of clothing stores, prone areas, under-illuminated areas, narrow passage areas, and cluttered areas of clothing are places where thieves like to visit.
Clothing store operators should develop a set of anti-theft measures based on their own layout and other characteristics. Strengthen the staff training and moral education, improve the ability of the store salesperson to prevent, first put an end to internal theft, the handling of the theft problem must be cautious and accurate.